Partner and credits
We want to thank all people who helped us in improving this project!
We are looking for people who are interested in translating our software into new languages or who want to continue or to improve an existing, discontinued language. Additionally we would like to establish sales partnerships in several countries.
Please drop us a note, if you are interested in such.
We thank the maufacturers of blood glucose meters for providing the communication specifications.
We thank our partners for a great cooperation:


Microsoft Germany
always supported us to improve this mobile solution. Many thanks to
Thomas Dreller
.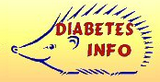 Jörg Möller
(
diabetesinfo.de
) is supporting us with his tremendous diabetes know-how!

Dirk Windhorst was the very first user beside of the main developer and has always helped with feedback about handling and bugs.
Thanks to Lynn Garrison, telling me about the bolus calculation in the U.S. and the bugs on am/pm handling.
Thanks to Larry Hum, who has built the recent version of the USDA (release 17) nutrition database for SiDiary!
Thanks to all translators:
Finnish:

Kari Hänninen. Kari comes from Vantaa, Finland and has translated SiDiary for his son, who is a type 1 diabetic.

Dutch:

Henk Heijligers. Henk is living in Rotterdam, Netherlands and he has diabetes since 1998/99. Nico Out has started to complete the current traslation.

Slovak/Czech:

Patrik Krizan. Patrik is studying in Frankfurt/M., he has not diabetes... but joined the team for the Java version (and he's playing pretty good tennis (slovak No.1 teen ranking few years ago) ;-)

Croatian:

Danijel Tkalcec. Danijel has developed several Free-/Shareware, he has no diabetes.

Spanish:

The current spanish translation is provided by Fernando Vargas, living in Bogotá, Colombia (Fernando is a type 2). He has reviewed and completed the initial spanish translation from M+B Windhorst, Lutz Minich and Josep Maria.

Danish:

Michael Rasmussen: "The kind dane". He's called MikeDK, he has no diabetes. Hobby: Hattrick (Online-Soccer) his team ID: Mad Hogs United (195694). Helmut Rielke: Webmaster of the Juvenile Diabetes Research Foundation Denmark, please visit www.jdrf.dk for more details.

French:

Ulrike Schleese is working as a professional translator for German/English/French. You can read about her on this web site: www.uebersetzungen.cc.

Polish:

Martin Drabowicz,Zygmunt Dynowski. Martin is a teammember of the Java crew, he has no diabetes. He was supported by Zygmunt Dynowski, who is either a native speaker and also diabetic.

Schwedish:

Pasi Grönberg. Pasi is living in Stockholm, he is type I diabetic since 2002.

Portuguese:

Rodrigo Thomaz. Rodrigo is living in Niterói - RJ, Brasil and he has diabetes type I for about 27 years.

Italian:

Claudio Biotti. Claudio is living near to Milan, Italy and his 8 years aged son is a type I diabetic since 18 months of age.

Thai:

Dr. Khrin Emasiri. He has no diabetes and is living in Chaiyaphum in the NorthEastern of Thailand. He is the head of his own private clinic and the webmaster of a software portal site, palmdiary.com and the official website of The College of Family Physicians of Thailand, thaifammed.org, additionally he is writing for the Thai PPC Magazine. Additional thanks to Mr. Mongkon for finding this helping hand.

Greek:

Wasilis Mandratzis. Wasilis lives in Germany for about 6 years but he has greek roots. He is working as a software translator (for freeware projects only). He has no diabetes but his father and grandfather have both diabetes.

Catalanian:

The catalan translation was done by Josep Maria. He comes from the Costa Brava and offers huge diabetes information in both catalan and spanish on his diabetes web site: MellitusWeb

Maltese:

The Maltese translation was done by Daniel Micallef, a 15 year old type 1. Daniel is living in Dingli, Malta.

Russian:

The Russian translation was done by Dima Glazunov. He is living in Moscow and 2001 he became a diabetic type 1.

Bosnian:

The Bosnian translation was done by Zaim (Nino) Karamehmedovic. He is living in Sarajevo, Bosnia and Herzegovina and 2004 he became a diabetic type 2.